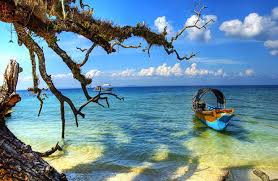 The Cellular Jail, also known as Kala Pani, was a colonial prison in the Andaman and Nicobar Islands, India. The prison was used by the British government for the purpose of exiling political prisoners to the remote archipelago. Many notable activists, including Vinayak Damodar Savarkar, Batukeshwar Dutt, Hare Krishna Konar, Shiv Verma, Yogendra Shukla, Satguru Ram Singh, and Sudhanshu Dasgupta were imprisoned here during the struggle for India's independence. In memory of the brave martyrs, the Cellular Jail authorities organize a light and sound show every Tuesdays, Thursdays, Saturdays and Sundays. The light and sound show not only transforms the cellular jail into a beautiful stage of a live performance but also narrates the heart-wrenching history of the independence movement along with the lives of the prisoners in the jail during the British era.
CARBIN COVE BEACH
Teeming with people and encircled by lush green coconut palms, Carbyn's Cove Beach is one of the more busy beaches in the Andaman Islands. This is the closest beach to Port Blair, a mere 8 km from the City center. The drive to the beach is a stunning visual treat. Zip across the ocean in a jet ski or a motor scooter. Enjoy a relaxing drink with your friends at the beach-facing restaurant. The blue benches lining the area make for a great seat to enjoy the view. You will also find clean and well-maintained bathrooms and changing rooms at your convenience.
LIGHT & SOUND SHOW
The sound and light show is one of the most engaging attractions that Port-Blair has to offer. Aimed at telling the story of the history at cellular jail, it is a perfect blend of both information and
Entertainment. For those interested in indulging in a brief presentation about India's heroic freedom struggle the Sound and Light show
The saga of islands adversities is brought alive inside the jail compound and it lasts around 45 minutes. The show is available in both English and Hindi. For a few, it may sound a little old school but the idea of the story being narrated by the voice of an ancient Pippal tree is refreshing.
The entire show brings up the dark history of the islands and reminds us exactly why these beautiful islands were once called Kalapani (black waters).