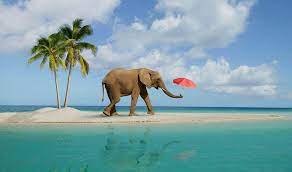 Elephant Beach is one of the most popular destinations in Havelock Island, due to its serenity, clear water, and water sports. The beach is located 8.6 KMs from the jetty and is considered the water sports haven of Andaman and Nicobar Islands.It is located at a secluded part of northern Swaraj Dweep, which has to be reached either via a boat or trekking through the forest. The area itself is quite mesmerizing. Placed between dense tropical jungles, the beach is covered by tall trees and greenery from all sides, which opens into a wide beach, complemented by white sand.
The water at the beach is shallow, starting at just 1-meter depth. These shallow waters are free of rocks and hard corals, so you can easily swim in the water without a second thought. Adults who know swimming are advised not to go too far and swim only at a 10-meter radius, while kids are advised to play only near the shoreline, under the supervision of an adult. The waves are medium and lively,which makes adventure sports like Jet Skiing, Kayaking, Speed Boats, Banana and Sofa Boat Rides, much more enjoyable.
The sea is crystal clear and allows for an ample underwater view. The corals and underwater diversity in the deeper seas here are unmatched by any other spot at Swaraj Dweep. With the combination of both hard and soft corals housing colorful fishes of varied species, the beach is one of the best places for activities like Sea Walk, Glass Bottom Boats, and Snorkeling.
There are lifeguards stationed at the beach and the crocodile population is all but null, so you can go for hours and hours of play in the water without any worries. Moreover, the beach also has proper changing rooms, lockers, and bathroom facilities for further safety and privacy.
Overnight stay Swaraj Dweep.